After sharing my 'Middle of the Road' and least favorite reads last time, I'm now ready to dig into the great finds. It's so much fun to find books that you love and want others to enjoy as well. So here is my top 10 list for the last few months. Drum roll please…
Romi's Top 10
10. When We Turned Within (Volume 2) Reflections on COVID-19 by Menachem Creditor and Sarah Tuttle-Singer – Ok I've got three short essays in this collection so I'm not impartial here. But I actually read the entire book and found it an intimate look at how others have been coping both in Israel and America. It was lovely and deeply affirming for anyone having a hard time or assuming they are the only one struggling.
9. The Last Lecture by Randy Pausch – If you don't know about this already, it's the story of a brilliant professor who knew he was dying and decided to video one last lecture so his children would have something of his when they grew up. The book is the story behind the lecture and it's really quite uplifting.
8. Beyond the Bright Sea by Lauren Wolk – This is children's literature and is worth the read. It's about a young child raised on an island by a single man. She starts to question who she is. It's lovely for kids and adults alike.
7. The Scent Keeper by Erica Bauemeister – I loved the first half of this book. It was sensual and compelling. Unfortunately, the second half was nowhere near as compelling – but I still recommend it as an interesting read.
6. In Five Years by Rebecca Serle – I already wrote an entire blog post about this book and how it related to our lives during COVID-19. An interesting read.
5. Dear Edward by Ann Napolitano – It's possible that I was only able to read this book about a plane crash and the lone survivor because I have no plans to fly anytime soon. Nonetheless, it was a beautifully done book. Can't say it was easy to read, as the chapters jumped between the flight leading up to the crash and the poor child's life after he survived. But as horror-inducing as this topic sounds, it was really written in a life-affirming and beautiful way.
4. The Vanishing Half by Brit Bennett – This was definitely made to be a book club pick! It was very well done book about race relations and the idea of passing. It brings up so many themes about race, culture, family and self-identify. A great read.
3. The Huntress by Kate Quinn – We've all heard about the hunt for Eichmann, but what about the hunt for some of the lesser known Nazis, or those who collaborated in more subtle ways? This was a fascinating and exciting read.
2. The Exiles by Christina Baker Klein – I think it's embarrassing how little I know of the history of most countries, including Australia. This was a powerful read about three women and the ways that Australia was built on their backs and tears. Beautifully written.
1. Hum If You Don't Know the Words by Bianca Mairas – This was not an easy book, but it was a beautiful look at South Africa and the lives of one white girl and one black woman, and how they intersect.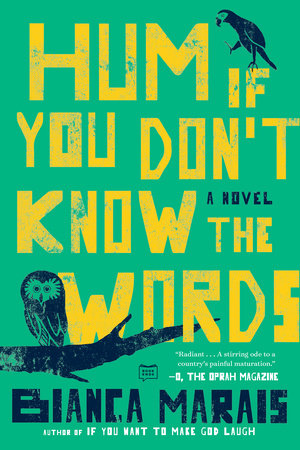 I just finished reading All Adults Here by Emma Straub. I liked, but didn't love, it and found that it tried to discuss too many social issues and topics. Next up after that is Real Life by Brandon Taylor. I'd love to know what you are reading and what you love!